Carvin Jones

(US)
Blues
Blues-Sphere Luik (13-02-2019)
reporter & photo credits: Paul Jehasse

info club: Blues Sphere
info band: Carvin Jones


© Rootsville 2019

En habitué du Blues-sphère voici Carvin Jones l'intenable showman virevoltant. Si je ne me trompe, pour sa quatrième visite sur les planches du club liégeois.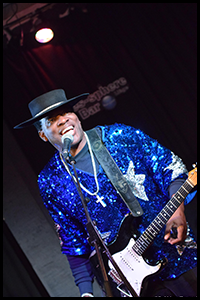 Il commence avec « I Only Have One Gear » de 2009 sur  le cd « The Carvinator », puis un blues lent « Tears Come Down Like Rain – Two Long Years ».
Notre ami est en forme olympique et joue "Driving Wheel", "What A Good Day – Victory Is Mine" et le rapide "Travis Walk" qui fait un peu penser à "Baby Please Don't Go".
Le premier set passe comme une fusée et après avoir fait un excellent marchandising, il remonte sur scène ayant troqué sa veste bleue étoilée et rutilante, par une autre veste rouge cette fois et il brille encore de mille feux.
Le second set est des plus entraînant et fait participer le très nombreux public, qui répond présent à chaque sollicitation. Notamment sur « Sunshine of your Love » des Cream et encore plus sur un « Johnny Be Good » de derrière les fagots. Après Chuck Berry, Carvin en revient à ses premières amours avec un superbe « Purple Haze » pour son indéfectible attachement à Jimi Hendrix.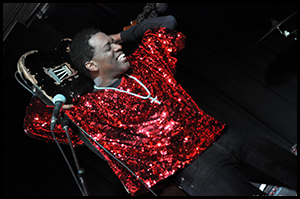 Ensuite un petit Albert King avec « Can't You See What You're Doing To Me », et une belle version de « Mary Had A Little Lamb". Agneau oui mais pas Carvin qui en Carvinator assène des riffs imparables sur sa Fender. Ce deuxième set est encore passé plus vite que le premier.
Mais nous auront droit à un rappel de trois chansons dont « Boum Boum » de John Lee Hooker et une « Rap Song – Tell Me How You Like It »
Quelle belle prestation, pour moi la meilleure de ses quatre visites. Merci Mister Jones, c'est à chaque fois un plaisir.