Tony Coleman & Henri Carpaneto 6-Tet (US/I)


Blues - Soul - Funk
Blues au Château - Oupeye (19-03-2019)


reporter & photo credits: Paul Jehasse (NL+F)



info organisatie: Blues au Chateau
info band: Tony Coleman - Henri Carpaneto

© Rootsville 2019

Ce spectacle, premier de lu cycle "Blues Au Château" présentait Tony « TC » Coleman. Batteur pendant 29 ans avec BB King, présent avec le géant du Blues, dans 98 pays, visités à travers le monde.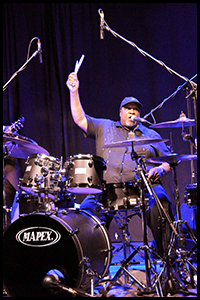 La salle du Château était comble (sold out). Mr Coleman était comme à la Blues Night de Heerlen (NL) accompagné des 5 musiciens du groupe de Henry Carpaneto (Claviers Hammond et Roland), Pietro Martinelli (basse), Umberto Porcaro (guitare), Paolo Maffi (saxophone) et Stefano Bergamaschi (trompette).
Il commence le premier set par l'instrumental « Jupiter », puis le souffle de Tony s'abat sur la salle avec « T.C Suffle» un des cinq morceaux du show, extrait de son dernier album de 2017 « Take Me As I AM», suivi du très beau « Get Ready» des Rare Earth. « Don't Cry The Blues » et une version de Johnny Guitar Watson « Ain't That A Bitch ». Nous passons ensuite à l'hommage de Mr Coleman à un autre grand Monsieur (BB KING) avec un medley lui dédié, comprenant « Caldonia », « How You Can't You Get », « Never Make Your Move To Soon » pour terminer par le mondialement connu « The Thrill Is Gone ».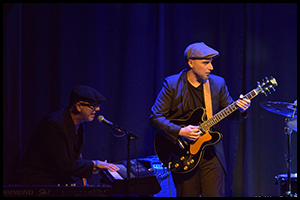 Nous voici déjà au second set après le marchandising, qui commence par « Baby's Got It », suivi de « Hook Me Up Baby* » et « What's Gonna Take ». Un long instrumental surnommé « Duck » montre par leur propre solo, le talent de chaque musicien, lors d'une présentation quatre étoiles.
Tony donne alors une bonne version du titre éponyme de son dernier album « Take Me As I Am*». Puis nous approchons de la fin du concert, mais qu'à cela ne tienne un regain de vivacité, nous lance dans le funk et R'N'Blues trépidant à la James Brown avec « Soul Power » super rythmé faisant même danser les musiciens italiens en scène. Il termine aussi avec un morceau survolté « Nothing But Love For You* » bien plus rapide que sur la version cd.
Le peuple est conquit et à droit à une fleur de la part de Tony Coleman et ses musiciens avec un « encore » - « Don't Cry No More ». Belle ouverture de la saison 2019 « Au Château d'Oupeye »

Verslag Nederlands

Dit concert van de cyclus "Blues Au Château" presenteerde Tony "TC" Coleman. Drummer voor 29 jaar met BB King, aanwezig bij de King van de Blues, in 98 landen, bezochten ze samen de hele wereld.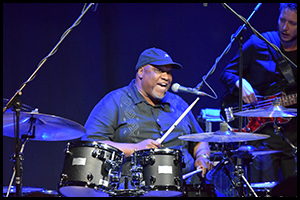 De kasteelzaal was uitverkocht. De heer Coleman kwam van de "Southern Bluesnight" (NL) onder begeleiding van 5 muzikanten uit de groep van Henry Carpaneto (Hammond en Roland keyboards), Pietro Martinelli (bas), Umberto Porcaro (gitaar), Paolo Maffi (saxofoon) en Stefano Bergamaschi ( trompet).

Hij begon de eerste set met het instrumentale "Jupiter" en de adem van Tony neer in de kamer met "TC Suffle" een van de vijf stukken van de show, van zijn laatste album 2017 "Take Me As I Am ", Gevolgd door de prachtige" Get Ready "van Rare Earth. "Do not Cry The Blues" en een versie van Johnny Guitar Watson "Is not that a bitch". Coleman speelt ook als eerbetoon aan BB King met een medley aan hem gewijd, waaronder "Caldonia", "How You Can not Get You", "Make Never Your Move To Soon" tot het afsluitende en wereldberoemde "The Thrill Is Gone".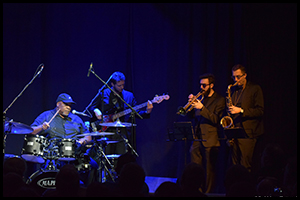 We zijn al in de tweede set na merchandising, te beginnen met "Baby's Got It", gevolgd door "Hook Me Up van de baby *" en "Wat is Gonna Take." Een lang instrumentaal genaamd "Duck" toont door een eigen solo, het talent van elke muzikant, tijdens een viersterrenpresentatie.
Tony geeft vervolgens een goede versie van de gelijknamige titel van zijn nieuwste album "Take Me As I Am". Dan naderen we het einde van het concert, maar nooit vergeten we deze hernieuwde levendigheid. Hij introduceert ons in de funk en rhythm 'n blues met een hectische James Brown special met "Soul Power", onderbroken door zelfs dansen Italiaanse musici op het podium. Het eindigt ook veel sneller met een versterkt nummer "Nothing But Love For You" dan op de CD-versie.

Het publiek werd overwonnen en Tony Coleman en zijn muzikanten keerden terug voor een "encore" met "Do not Cry No More." Mooie opening van het seizoen 2019 "Au Château d'Oupeye"