Dale Hawkins is niet meer....
Dale Hawkins, a songwriter and singer whose rockabilly repertory included the 1957 hit "Susie Q," a bandstand classic for generations of rockers, died on Saturday in Little Rock, Ark. He was 73.
The cause was colon cancer, his Web site said.
Mr. Hawkins drew deeply from the heavy blues sounds of South Louisiana to create a classic of what is sometimes called swamp rock. Just as important were the explosive riff supplied by James Burton, one of rock's first superstar guitarists, and the gong of a cowbell at the song's beginning. "Susie Q" (the title was also sometimes rendered as "Susie-Q," "Suzy-Q" and other variations; neither Mr. Hawkins nor his record company was consistent) reached No. 27 on the Billboard chart.
But the song's influence can be measured in the many bands that have made it a rock anthem, as well as the many that have recorded it, including the Rolling Stones and Creedence Clearwater Revival, whose 1968 version reached the Top 20.The Rock and Roll Hall of Fame chose it as one of the 500 songs that "shaped rock and roll."
Mr. Hawkins has said that he and Mr. Burton came up with "Susie Q" as they improvised around Mr. Burton's guitar flourish. "I wrote it, but never actually wrote it — it just kind of worked itself out," he said in an interview with the music magazine Kicks.
When the song was first published, according to Colin Escott's book "Tattooed on Their Tongues: A Journey Through the Backrooms of American Music" (Schirmer, 1996), it was credited to Mr. Hawkins; Eleanor Broadwater, the wife of a disc jockey; and Stanley J. Lewis, the owner of a local record shop and later a record producer and distributor.
In a 2000 interview with the weekly newspaper Denver Westword, Mr. Hawkins said the names of Ms. Broadwater and Mr. Lewis had been added unknown to him and for reasons he never understood. But that addition, he said, meant that he got only a third of the songwriting royalties. Indeed, he claimed that until MCA bought the Chess Records catalog in 1985, he received nothing for "Susie Q."
The song's title seems to have come from a dance craze of the mid-1930s. A song called "Doin' the Susi-Q" was included in the Cotton Club Revue of 1936. According to Mr. Escott, some sources say that Mr. Hawkins claimed to have seen Howlin' Wolf, the blues singer, down on his knees screaming "Suzie something or other."
Delmar Allen Hawkins was born on Aug. 22, 1936, on his grandfather's cotton farm in Gold Mine, La., where he grew up. His father and other family members were musicians who toured Arkansas and Oklahoma in the 1930s and '40s. His cousin Ronnie Hawkins was also a rockabilly recording artist.
At 16, Dale lied about his age to join the Navy and served in the Korean War. He formed a band shortly after that.
Mr. Hawkins recorded "Susie Q" for Checker, a subsidiary of the celebrated Chicago blues and R&B label Chess Records. He was one of the first white artists the company signed. He was also one of the first white artists to appear at the Apollo in New York and the Regal in Chicago.
In the mid-1960s Mr. Hawkins became a record producer, working with the Uniques, Bruce Channel and the Five Americans, whose "Western Union" made the Top 10 in 1967. In 1969 he returned to singing with the album "L.A., Memphis & Tyler, Texas."
In the 1980s, after recovering from an addiction to prescription drugs, he opened a crisis center for teenagers in Little Rock.
Mr. Hawkins is survived by his companion, Flo Murdock; his sons, Jeffrey and Jay Paul; his brother, Jerry; his sister, Linda Snider; and three grandchildren. (bron NY Times)
Lil' Dave Thompson February 14, 2010
February 14, 2010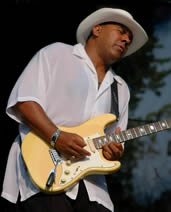 It is with immense regret that we inform you of the passing of Lil' Dave Thompson at 7am this morning as the result of an automobile accident outside of Augusta, Georgia, while touring with his band. The other band members were not seriously injured. A dynamic artist, widely acknowledged as one of the very best of the current generation of Mississippi Blues Artists, Lil' Dave will be sadly missed by his family, friends and blues music lovers world wide. More details will be posted as they become available. (Andrew Galloway Electro-Fi Records)
It is with great sadness that we report the death of bluesman Lil' Dave Thompson. The noted blues guitarist was killed in an auto accident outside of Augusta, Georgia at 7:00 AM on Sunday morning, February 14, 2010. Thompson and his band were returning home to Greenville, Mississippi from Charleston, South Carolina where they had performed Saturday night, the last gig on a lengthy and successful tour. None of Thompson's band members were seriously hurt in the accident.
Thompson was born in Mississippi in 1969 into a blues family, his father Sam having performed alongside artists like Asie Payton, Willie Foster, Paul Wine Jones, and others. He began playing guitar at the age of nine, and was playing in local bands in his early teens. Thompson made his recording debut in 1995 with the release of Little Dave and Big Love on the Fat Possum label. Although he would literally disappear from the blues scene for better than six years, Thompson would reappear in 2002 with his album C'mon Down To The Delta.
It was with a pair of albums for the Electro-Fi Records label, however, that Thompson would make a big noise in the blues world. Thompson's Got To Get Over You (2006) and Deep In The Night (2008) would be accompanied by constant touring and critical acclaim, and would earn the guitarist a loyal and growing audience. Thompson is survived by his wife of 15 years, Susan White, and by five children. Our thoughts go out to Thompson's family, friends, and many fans worldwide.

CD review