CLARENCE " GATEMOUTH" BROWN Born: april 18, 1924 Vinton LA - Died: september 10, 2005 Orange TX.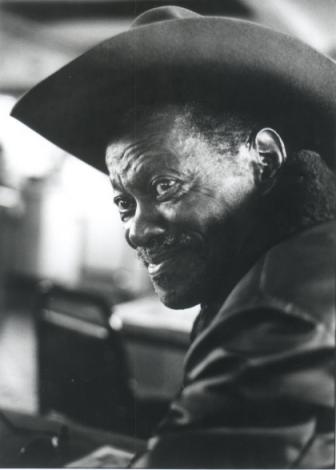 Clarence groeide op in Orange TX. Zijn vader was een populaire lokale muzikant die zich had gespecializeerd in country, cajun en bluegrass. Clarence voelde zich aangetrokken door de "big bands" van Count Basie, Lionel Hampton en Duke Ellington. Z'n naam "Gatemouth" kreeg hij van een leraar die hem steeds beschuldigde dat hij "a voice like a gate" had.
In 1947 viel Brown in voor T-Bone Walker in de nachtclub van Don Robey, The Bronze Peacock. Robey hield zich bezig met de cariere van Brown en na twee singles voor Aladdin Stiffed richte Robey z'n eigen Peacock label op in 1949. Brown's riffs bleken invloeden te hebben op het Houston Blues Legioen zoals: Albert Collins, Johnny Copeland, Johnny Guitar Watson en vele andere. Brown bleef bij Peacock tot 1960 en had maar een enkele hit in '49 met "Mary is Fine". Maar zijn instrumentale nummers zoals: Boogie Uproar, Gate walks to Board, Okie Dokie Stomp, Rock My Blues Away en Dirty Work at the Crossroad zijn monumenten van de na-oorlogse Texas Blues erfenis.
De jaren '60 waren Brown niet gunstig gezind. Alleen Little Jimmy Dickens' cover "May the bird of paridise bracht hemeen klein hitje op. In '66 begon Brown als orkestleider voor "The beat", een R&B televisieprogramma van WLAC met als Dj. Bill "Hoss" Allen.


In de jaren '70 begon Brown terug aan z'n cariere te werken en begon country, jazz en zelfs calypso een rol te spelen bij zijn concerten. Platen voor Rounder, Alligator, Verve en Blue Thumb bewezen in de '80s, '90s en zelfs in 2000 dat hij standvastige Amerikaanse originals maakte zonder ze in een hokje te passen.
Clarence "Gatemouth" Brown stierf op 10 september, 2005 in Orange TX.
Discography:
San Antonio Ballbuster (1948)
The Blues Ain't Nothin' (1972)
Just Got Lucky (1973)
Cold Strange (1973)
Sings Louis Jordan (1973)
Black Jack (1975)
Down South in Bayou County (1975)
Gate's on the Heat (1975)
Bogalusa Boogie Man (1976)
Makin' Music (with Roy Clark) (1979)
Alright Again! (1981)
One More Mile (1982)
Atomic Energy (1984)
Pressure Cooker (1985)
More Stuff (1985)
Real Life (Live) (1987)
Texas Swing (1988)
Standing My Ground (1989)
The Original Peacock Recordings (1990)
No Looking Back (1992)
Live 1980 (1994)
The Best of Clarence Gatemouth Brown, A Blues Legend (1995)
Man (1995)
A Long Way Home (1996)
Gate Swings (1997)
Okie Dokie Stomp (1999)
American Music, Texas Style (1999)
Guitar in My Hand (2000)
Okie Dokie (2000)
The Definitive Black & Blue Sessions: Sings Louis Jordan (2001)
Back to Bogalusa (2001)
His First Recordings: 1947-1951 (2002)
1947-1951 (202)
Hot Club Drive (203)
Timeless (2004)
1952-1954 (2005)