JOHN LEE HOOKER Born: august 22, 1917(?) Coahoma County MS - Died: june 21, 2001 Los Altos CA.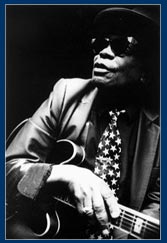 John Lee Hooker werd geboren op 22 augustus 1917 in de staat Mississippi. Alhoewel er verschillende data bekend zijn aangaande z'n juiste geboortejaar wordt 1917 als de meest waarschijnlijke aangenomen. Vader William Hooker (1817-1923) en moeder Minnie Ramsey (1875 - ?) hadden samen elf kinderen en was JL de jongste telg. In 1921 hertrouwde John's moeder met William Moore, een bluesartiest die John de guitar leerde kennen. In 1923 toen John's natuurlijke vader stierf liep hij op 15-jarige leeftijd weg van huis en zag z'n moeder en stiefvader nooit meer weer.
In de jaren '30 leefde John in Memphis en werkte er in "Beale Street" en trad occasioneel op bij privéfeestjes. Tijdens WOII werktij hij in verschillende steden waarbij ook in Detroit bij de Ford Motor Company (1948). Tijdens de optredens in de Detroit clubjes werd John meer en meer populairder en op zoek naar iets luider dan z'n accoustische guitar kocht hij z'n eerste electrische.
Hooker's nam z'n eerste album op in 1948 bij de Bihari Brothers (Modern Records Label). Dit label bracht een eerste up-tempo nummer uit, "Boogie Chillen" en werd John's eerste hit.
Alhoewel de Bihari brothers geen songwriters waren claimde ze meestal de royalties, en brachten oudere songs uit onder een nieuwe naam. Tijdens de jaren '50 trok John van studio tot studio en begon in elke studio nieuwe liedjes en variaties te brengen.
In 1980 vetolkde hij een rol in The Blues Brother film en beinvloede hij de "look" in John Belushi's rol als Jack Blues.
In 1989 nam hij samen met enkele muzikanten (waaronder Kieth Richard en Carlos Santana) het album "The Healer" op en won er een Grammy Award mee. Ook met Van Morrison nam hij verschillende nummers op en verscheen dikwijls aan de zijde van Jim op concerten.
John Lee Hooker nam in zijn cariere meer dan 100 albums op en leefde de laatste jaren van z'n leven rond "San Francisco Bay" waar hij in 1997 een nachtclub opende met de naam "John Lee Hooker's Boom Boom Room".
Iets voor z'n Europese tour in 2001 werd John ziek en stierf op de leeftijd van 83. Voor z'n dood nam hij nog een laatste nummer op met de Italiaanse Zucchero waarbij John het refrein zong, "I Lay Down With An Angel".
Onder zijn vele prijzen kreeg hij ook een ster op de befaamde "Hollywood Walk Of fame" en in 91 werd hij bijgevoegd in de "Rock and Roll Hall Of fame". Twee van z'n liedjes (Boogie Chillen en Boom Boom) staan in de "The Rock and Roll Haal Of Fame's 500 Songs that Shaped Rock and Roll" en Boogie Chillen werd bijgevoegd bij één van de "Songs of the Century". In 1980 werd hij bijgevoegd in de Blues Hall of Fame en in 2000 kreeg Hooker een "Grammy Lifetime Achievement Award".
Discography
1948-1954 - Original Folk Blues (released on United)
1959 - How Long Blues (released on United)
1959 - I'm John Lee Hooker (Vee Jay Records)
1959 - The Folk Blues of John Lee Hooker (Riverside)
1959 - Burning Hell (Riverside)
1960 - Travelin' (Vee Jay Records)
1960 - That's My Story (Riverside)
1960 - House Of The Blues
1960 - Blues Man
1960 - I'm John Lee Hooker
1961 - John Lee Hooker Sings The Blues
1961 - Plays And Sings The Blues
1961 - The Folk Lore of John Lee Hooker
1962 - Burnin'
1962 - Drifting the Blues
1962 - The Blues
1962 - Tupelo Blues
1963 - Don't Turn Me from Your Door: John Lee Hooker Sings His Blues
1964 - Burning Hell
1964 - Great Blues Sounds
1964 - I Want to Shout the Blues
1964 - The Big Soul of John Lee Hooker
1964 - The Great John Lee Hooker (Japan only)
1965 - Hooker & The Hogs
1966 - It Serves You Right to Sufer
1966 - The Real Folk Blues
1967 - Live at Cafè Au Go-Go
1968 - Hooked on Blues
1969 - Get Back Home
1969 - If You Miss'Im I Got'Im
1969 - Simply The Truth
1969 - That's Where It's At!
1969 - Get Back Home (First Issue)
1970 - If You Miss 'Im...I Got 'Im
1970 - John Lee Hooker on the Waterfront
1970 - Moanin' and Stompin' Blues
1971 - Endless Boogie
1971 - Goin' Down Highway 51
1971 - Half A Stranger
1971 - Hooker 'N' Heat/Infinite boogie
1971 - I Feel Good
1971 - Never Get Out Of These Blues Alive
1972 - Detroit Special
1972 - Live At Soledad Prison
1973 - Born In Mississippi, Raised Up In Tennessee
1974 - Free Beer And Chicken
1974 - Mad Man Blues
1976 - Alone
1976 - In Person
1977 - Black Snake
1977 - Dusty Road
1978 - The Cream
1979 - Sad And Lonesome
1980 - Everybody Rockin'
1980 - Sittin' Here Thinkin'
1981 - Hooker 'n' Heat (Recorded Live at the Fox Venice Theatre)
1986 - Jealous
1988 - Trouble Blues
1989 - Highway Of Blues
1989 - John Lee Hooker's 40th Anniversary Album
1989 - The Detroit Lion
1989 - The Healer
1990 - The Hot Spot (Featuring Miles Davis)
1990 - Don't You Remember Me
1991 - More Real Folk Blues: The Missing Album
1991 - Mr. Lucky
1992 - Boom Boom
1992 - This Is Hip
1992 - Urban Blues
1993 - Nothing But The Blues
1994 - King of the Boogie
1994 - Original Folk Blues...Plus
1994 - Dimples (Classic Blues)
1995 - Alternative Boogie: Early Studio Recordings, 1948-1952
1995 - Chill Out
1995 - Whiskey & Wimmen
1995 - Blues for Big Town
1996 - Moanin' the Blues (Eclipse)
1996 - Alone: The First Concert
1997 - Don't Look Back
1997 - Alone: The Second Concert
1998 - Black Man Blues
2000 - On Campus
2001 - Concert at Newport
2001 - The Cream (Re-issue)
2001 - The Real Blues: Live in Houston 1979
2002 - Live at Newport
2003 - Face to Face
2003 - Burning Hell (Our World)
2003 - Rock With Me
2004 - Jack O' Diamonds: The 1949 Recordings
Compilations
1974 - Mad Man Blues (Chess 1951-1966)
1987 - Don't Look Back
1989 - The Hook: 20 Years of Hits
1989 - The Boogie Chillen Man
1991 - Hobo Blues
1991 - The Chess Masters
1991 - The Complete Chess Folk Blues Sessions (The Real Folk Blues/More Real Folk Blues)
1991 - The Ultimate Collection 1948-1990
1992 - Best Of: 1965-1974
1992 - The Ultimate Collection (Universal)
1992 - The Vee-Jay Years, 1955 - 1964
1993 - Boom Boom (UK only)
1993 - Boogie Man
1993 - The Legendary Modern Recordings 1948-1954
1994 - Blues Collection (Boogie Man)
1994 - John Lee Hooker (LaserLight)
1994 - The Early Years
1994 - Wandering Blues
1995 - Red Blooded Blues
1995 - The Very Best Of
1996 - Blues Legend
1996 - Live at Cafe au Go-Go (and Soledad Prison)
1997 - His Best Chess Sides
1997 - Live In Concert
1997 - The Essential Collection
1998 - The Best of Friends
1998 - The Complete 50's Chess Recordings
1999 - Best of John Lee Hooker: 20th Century Masters
1999 - This Is Hip [The Best Of]
2000 - The Definitive Collection
2001 - Born With The Blues
2001 - Gold Collection
2001 - Legendary Blues Recordings: John Lee Hooker
2002 - Blues Before Sunrise
2002 - The Complete - Vol. 1 [Body & Soul]
2002 - The Complete - Vol. 2 [Body & Soul]
2002 - The Complete - Vol. 3 [Body & Soul]
2002 - The Complete - Vol. 4 [Body & Soul]
2002 - The Classic Early Years 1948-51 (UK, London's JSP Records,4CD's)
2002 - The Real Folk Blues/More Real Folk Blues
2002 - Timeless Collection
2003 - Blues Kingpins
2003 - Final Recordings, Vol. 1: Face to Face
2003 - The Collection 1948-52
2004 - Don't Look Back: Complete Blues
2004 - The Complete - Vol. 5 [Body & Soul]
2005 - The Complete - Vol. 6 [Body & Soul]
2005 - The Early Years - Vol. 1
2006 - Hooker (4CD Box-set covering his whole career)