Spotlight on...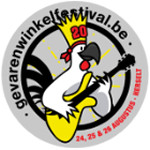 20 JAAR GEVARENWINKEL
24,25 & 26 augustus 2017
Nostalgie...
Zelden 'e kieke' zo oud weten worden en ik weet nu al dat 'Vic' zal zeggen, da we da nog meuge meemake'. Overal ten lande verschenen er bluesfestivals en muziekliefhebbers en feestneuzen als die van 'Osschot' zijn konden ze hier toch niet achter blijven. In 1998 staken enkele bluesliefhebbers de koppen bijeen om ook hier rond Aarschot een bluesfest te gaan houden. Een locatie werd gevonden in een gehucht van Langdorp, Varenwinkel. De naam van het festival 'Gevarenwinkel' moest en zou een begrip worden in de Belgische bluescène. Van bij de oprichting kwam er nog een ander aspect ter sprake en zo zou er ieder jaar een bedrag aan een goed doel worden geschonken waardoor de Osschotse bluesliefhebbers hun hart lieten spreken. In de voorbije 19 jaar werd er zo maar even bijna 54.000€ geschonken aan liefst 19 organisaties of instellingen.
Er werd bescheiden begonnen met onder meer Chilly Willy die dit jaar zelfs 25 kaarsjes kwamen uit te blazen. Al vlug werd ook over de landsgrenzen gekeken om groepen naar Gevarenwinkel te doen af zakken en werd dit festival een begrip. Toen ze aan hun 10de verjaardag kwam er het idee om een derde dag aan het festival toe te voegen iets wat nu op de 20ste verjaardag ook het geval zal zijn. Groepen als 'The Delta Saints' mogen zeggen dat hun carrière op ons continent hier op dit festival in de juiste plooi kwam te vallen. Sinds vorig jaar kon het festival niet meer op de oude locatie plaats vinden en zo kwam Gevarenwinkel terecht in den hof van de Vic. Deze nieuwe locatie werd unaniem goedgekeurd en dus was de nieuwe start onder een goed gesternte begonnen. De MC van de grote tent, den doktoor blaast er dit jaar 50 uit, dus dames...en heren, kussen maar.
Rootsville flashback
10 jaar Gevarenwinkel: festival report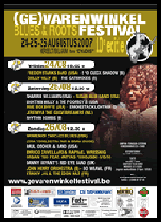 Heden...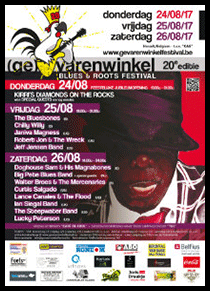 Zoals gezegd telt 'Gevarenwinkel' dit jaar ook '3' dagen. Met de toevoeging van deze derde dag wil de organisatie een hand uitreiken naar de buurtbewoners. Niemand minder dan kind des huizes Kirri Valvekens zal er aantreden met zijn 'Diamonds on The Rocks' en om op deze donderdag iedereen naar de tent te lokken zullen er enkele 'special guests' van de partij zijn zoals...oeps bijna verklapt.
Op vrijdag 25 augustus starten ze met ons export product in de blues, 'The Bluesbones' waarna de 25 jaar oude Chilly Willy hier een feestje komt bouwen. Zowel Chilly Willy als de Kirri met toen de '5 'O Clock Shadow Blues Band' waren op de 10de verjaardag ook van de partij. Vervolgens is het de beurt aan 'Diva' Janiva Magness die met haar soulvolle stem zonder meer de tent in beweging zal komen te zetten. Daarna is het tijd voor Robert Jon & The Wreck en als outswinger op deze 2de dag is er de revelatie van het voorbije jaar, Jeff Jensen en voor die enkele die hem nu nog niet hebben kunnen beleven. BE THERE!!!
Zaterdag wordt zonder meer de dag van de apotheose. Wouter Celis aka Doghouse Sam en zijn Magnatones zullen al meteen het vuur aan de lont komen te steken. Big Pete zal volgen en dus zullen ook de liefhebbers van Lester Butler wel aan hun trekken komen. Na het verdwijnen van onze 'Sniffers' zaten de roots fanaten even in zak en as maar Walter Broes bleef niet bij de pakken zitten. Samen met zijn Mercenaries zal de tent ongetwijfeld gaan swingen. Van uit de States krijgen we dan Curtis Saldago gevolgd door Lance Canales and The Flood, deze laatste moet je zeker gezien hebben. Ooit speelde hij zowat op ieder festival en dus is Ian Siegal de geschikte persoon om er een feesteditie van te maken. Voor de Southern Rock formatie 'The Steepwater Band' zullen meer dan waarschijnlijk velen naar den hof van de Vic gaan afzakken en als kers op de taart nemen we van deze 20ste editie afscheid samen met Lucky Peterson.
Het laatste weekend van augustus mag en kan er maar '1' ding in je agenda staan en dat is zonder meer de verjaardag van Gevarenwinkel...
Verleden...
Omdat we niet iedere editie opnieuw in de kijker kunnen zetten volgt hieronder de volledige line-up door de jaren heen om maar aan te duiden wie hier allemaal al in dit gehucht aanwezig is geweest.
1998 - 5 Days Off - High Dancety - Chilly Willy (55.000BF t.v.v. Kom Op Tegen Kanker) - 1999 - Illegal Moose - Roadhouse - Buds Blues - The Seatsniffers (105.000BF t.v.v. onderzoek naar mucovisidose) - 2000 - Brother Booze - JP Butler Band - Robert Smith Blues Band - The Nightporters (155.000BF t.v.v. Cliniclowns) - 2001 - Kirri - Rhythm Bombs - Fred Klee Band - Corrina Greyson - Last Call (180.000BF t.v.v. kinderkankerafdeling Gasthuisberg) - 2002 - Hombre - The Juke Joints - Stan Webb's Chicken Shack - Hideaway - AJ and The Moose - Chilly Willy - Lester Butler Tribute Band - Jumpin' Johnny Sansone & Tee - The Nightporters (5.100€ t.v.v. brandwondencentrum Gasthuisberg) - 2003 - Mardi Gras - Bo Weavil - Foger-T - Them - Slowhand Pizze, Dizzy Gery & Nico from the outside - Flor & Kirri - Homesick & the Louisana Men - Brewed & Bottled - Bluezilla - The Instigators - Sean Costello - Tad Robinson Band - The heart of: The Georgia Satellites (2.550€ t.v.v. de Vlaamse Altzheimerliga + 2.550€ t.v.v. de vereniging ouders van prematuren VVOC) - 2004 - The Catsmokes - The Billy Haynes band & guest Enrico Crivellaro - Dr Feelgood - The Wildcards - Maxwell Street - Blues Lee - Red Rivers & The Seatsniffers - Sherman Robertson & Bluesmove - The Enrico Crivellaro Band feat. Finis Tasby - Sharrie Williams & The Wiseguys - Kokain - Stinky Lou & The Goon Matt -The Ugly Buggy Boys (2.000€ t.v.v. Leven Met reuma + 2.000€ t.v.v. Inclusie Vlaanderen) - 2005 - Tim's Blues Combo - Little Charlie & The Nightcats - Snowy White & The White Flames - Louisiana Men - Blue Chevy's - Mitch Kashmar & The Backbones - Carlos Guitarlos - Ray Sharpe - The Holmes Brothers - Axl Peleman & Mario Pesic - The Hackensaw Boy's (2.499€ t.v.v. Hartekinderen) - 2006 - The Young Bastards - The Pine Box Boys - Diz & The Doormen - Carol Fran Band feat. Leon Blue - The Baboons - Cash Reloaded - The Mississipi Mudsharks - Thad Beckman - Màtyàs Pribojszki Band - Rag Mama Rag - Little Willie Littlefield feat. The Night Time Heroes Blues Band - Otis Grand Big Blues Band - Captain Gumbo - Howard Tate (2.500€ t.v.v. Make a wish - 2007 - The Catsmokes - 5 O' Clock Shadow - Chilly Willy - Freddy Starks Band - Jeremy & The Groovebreakers - Rhythm Bombs - Lightnin Willy & The Poorboys Sugar Blue Band - Sharry Williams - Smokestack Lightnin - Pine Box Boys - Danny Bryant's Red Eye Band - Enrico Crivellaro/Raphael Wressing Organ Trio feat. Matyas Pribojzski - Paul Oscher & Band - Woman Of Chicago Blues - John Henry Orchestra - Bo Weavil - Stinky Lou & The Goon Mat (2.499€ t.v.v. Dyadis) - 2008 - Jim Cofey - The Electrophonics - Thorbjorn Risager - Roland & Gene Taylor - Rusty Roots - Eugene "Hideaway" Bridges - Rhythm & Blues Explosion feat. Alex Schultz, Sax Gordon & Raphael Wressnig - John Primer & The Real Deal Bluesband - James "Super Chikan" Johnson & The Fighting Cocks - The Legendary Johnny Trash - Les Chats Cadiens (2.500€ t.v.v. Kinderrevalidatiecentrum UZ Gent) - 2009 - The Wieners - Voodoo Boogie - Mac Arnold & The Plate Full 'O Blues - Stacie Collins Band - Tim Lothar Petersen - Ben Prestage - Pedro Delgados - Country Feedback Club - Eric Lindell - Alvin Youngblood Hart's Muscle Theory - Earl Thomas and Paddy Milner & The Big Sounds - Nathan & the Zydeco Cha-Chas (2.500€ t.v.v. hart tegen Hart) - 2010 - Blues Conspiracy - Omar & The Howlers - Big Pete Pearson & The Gamblers - The Wildcards - Ganashake - Belgian Blues Legends - Watermelon Slim & The Workers - Rick Estrin & The Nightcats - Shakura S'Aida & Meena - Men Of Considerable Taste - The Saddle Tramps (2.500€ t.v.v. Pinocchio) - 2011 - Kirri Willy & Les Magasin Dangereux - Guitar Ray & The Gamblers - Janiva Magness - Cheap Killers - Barefoot & The Shoes - Doghouse Sam & his Magnatones - Smokin' Joe Kubek & Bnois King - The Delta Saints - Mud Morganfield Band - The Jolenes - Voodoo Twinz featuring Big Dave & Patrick Louis (2.500€ t.v.v. De Vereniging voor Aangeboren Gelaatsafwijkingen (VAGA vzw) - 2012 - Dusty Dollar - Chilly Willy - Big Pete & Band - Shemekia Copeland - Continental Radial Band - The Catsmokes - Johnny Mastro & Mama's Boys - Varenstore All Star Band ft. Raphael Wressnig & Enrico Crivellaro & Sax Gordon & Finis Tasby - Big Bayou Bandits - Ana Popovic - Ronnie Baker Brooks (2.500€ t.v.v.Het Centrum voor Aangepaste Sporten (CAS vzw)) - 2013 - Autumn Chills - Lil' Jimmy Reed - Gerry McAvoys Band of Friends - Terry Harmonica Bean - Voodoo Swing - Robert Smith Bluesband - James Harman Band - The Norman Beaker Band - The Nightporters - Hackensaw Boys - Slam & Howie and the reserve men (2.500€ t.v.v. Dyadis) - 2014 - The Bluesbones - Boogie Beasts - Igor Prado Band feat. Raphael Wressnig - The Delta Saints - The Jetpack Pilots - Shaggy Dogs - Scrappy Tapes - Jimmy Johnson - Larry & his Flask - The Steepwater Band - Mud Morganfield (1.999€ t.v.v. Pinocchio) - 2015 - Barefoot & The Shoes - Jo & Lazy Fellow - Nikki Hill - Mike Vernon & The Mighty Combo - The Blues Vision - Congo Faith Healers - Chris Bergson Band - Eugene Hideaway Bridges - D-Tale - Jarekus Singleton Band - Selwyn Brichwood Band - (1.500€ t.v.v. Ga voor geluk) - 2016 - La Bomba - Lisa Mills - Travellin' Brothers - Southern Avenue - Freeborn Brothers - D-Tale - Chris King Robinson - Sandra Hall - Bo Weavil - Sari Schorr & The Engine Room - Dirth River Radio - Mingo Fishtrap (1.500€ t.v.v. Kid Fonds)

Rootsville flashback - 10 jaar Gevarenwinkel: concert report